| | | | | |
| --- | --- | --- | --- | --- |
| | | | | |



Nearly a decade of advanced research, development and real-world testing in some of the most demanding conditions have yielded the world's most sophisticated series of DC to AC pure sine wave power inverters. Ramsond SUNRAY™ inverters are arguably the most advanced and reliable pure (true) sine wave power inverters available in the market The design, functionality, stability, reliability and affordability of SUNRAY™ power inverters are simply unrivaled. They are extremely rugged and powerful. At the same time, they are elegant in appearance, compact and lightweight. They are developed to be user-friendly and furnish real time live data and information (via LED displays and alarms) about the working conditions of the inverter, the load and battery bank. The characteristics of SUNRAY™ pure sine wave inverters make them suitable for virtually all residential, commercial and industrial applications.

Applications

The characteristics of SUNRAY™ pure sine wave power inverters make them suitable for virtually all residential, commercial and industrial applications. The applications are countless, but some include:




Off-Grid Power Source
Renewable Energy (Solar, Wind, Hybrid)
Emergency Backup Power
RV, Mobile Homes, Trucks, Tractors, Cars
Camping, Tailgating
Marine Applications (Boats and Yachts)
Commercial and Industrial Applications
Mobile Power for Tools and Machinery
Construction Sites
Mobile Command Centers
Mobile Medical Clinics
Remote Scientific and Research Sites
Mobile Laboratories
Disaster Relief Modules
Temporary Disaster Shelters
Mobile Water Purification Systems
Telecommunication, Surveillance Towers
Oil Platforms, Research Sites,
Defense and Military Applications
Exhibition Booths, Concession Stands


Ramsond SUNRAY™ inverters convert DC (Direct Current) to pure sine wave AC (Alternating Current) power; the same type and quality of AC power produced by the utility companies. Pure sine wave output is a far superior (cleaner) form of output power as compared with modified sine wave or square wave power. Increasingly, most modern electrical or electronic devices, such as laptop computers, stereos, laser printers, sensitive medical equipment, digital clocks and kitchen appliances with multi-stage timers, and variable speed or rechargeable tools can only function properly with pure (true) sine wave power. Similarly, pure (true) sine wave inverter power may be needed for maximum efficiency of inductive equipment, to reduce audible and electrical noise in devices with audio-visual components and to enable proper functioning of fluorescent lights with electronic ballasts.

Ramsond SUNRAY™ inverters' pure sine wave output provides suitable power for operation of all electronic and electrical appliances and devices. In contrast, the inferior, conventional inverters that produce modified or square wave power, are likely not to be capable of providing suitable power to many modern devices. Both the function and longevity of electrical/electronic devices and appliances are improved with the use of pure sine wave power.




(Place Mouse Pointer Over Thumbnails on the Right to View Larger Image

)

_________________________

_______________________

Technical Specifications

Manufacturer
Ramsond Corporation

Model

SUNRAY™ 3000 (24V DC to 115V 60Hz AC)

Function

DC to AC Intelligent Digital Power Inverter

DC Input Voltage

24V

Input Voltage Range (DC)

21-30 Volts

Output Voltage (AC)

115V ± 10%

Output Frequency

60 Hz

AC Output Wave Form

Pure Sine Waves

THD

< 5%

Continuous Output

3000 Watts

Surge/Peak Power

6000 Watts

No Load Current Draw

<1.2 Amp

Full Load Efficiency

≥ 90%

Protection

High Input Voltage Protection

>30 V DC

High Input Protection Action

Automatic System Shut Off (Automatic Recovery)

Low Input Voltage Alarm

21 ± 1 V

Low Input Voltage Protection

20 ± 0.5 V

Low Input Protection Action

Automatic System Shut Off (Automatic Recovery)

AC Short Circuit Protection

Automatic System Shut Off (Manual Recovery)

Over Heat Protection

Automatic System Shut Off (Automatic Recovery)

Reverse Polarity Protection

Spade Fuses

Cooling System

Heat Exchange

Extruded Aluminum Body With Ruffled Heat Transfer Fins

Fan System

Large Thermostatic High Air-Flow Rear Fan

Features

Receptacles/Sockets

4 x 115V 60Hz 15 Amp Three (3) Prong Sockets
Hard Wire Terminal Block (AC115V 60 Hz, 30 Amp)
USB 5V 500mA Socket
Remote Starter Port
Remote Ready (Switch Optional)

LED Displays

LED Display Window of Watts & Error Codes
LED Display Window of Input Voltage
Single LED On/Off Indicator and Alarm

Construction

Extruded Anodized Aluminum + Ruffled Heat Transfer Fins

Net Weight

18 lbs (8.2 Kg)

Dimensions

Length

15

¼

in (390 mm)

Width

9 in (230 mm)

Height

6

½

in (95 mm)

Environmental Specifications

Working Temperature

32° F to 140° F (0° C to +40° C)

Working Humidity

10% ~ 90% RH non-condensing

Front Panel
The panel of the SunRay 3000 is comprehensively equipped with variety of features. The double LED display windows display the load power (Watts), the battery voltage, as well as three digit error codes. The panel is equipped with four standard 3 prong 15 Amp receptacles. Furthermore, the panel is equipped with a 30 Amp (115V 60Hz)
Hard Wire Terminal Block
. This terminal block can be utilized to power loads that exceed the standard 15 Amp. The hardwire block terminal may also be utilized for applications that require direct connection from inverter to the power circuit* (e.g. off grid power systems).
*Please ensure connection to electrical panel by a qualified and certified electrician to prevent power back feed.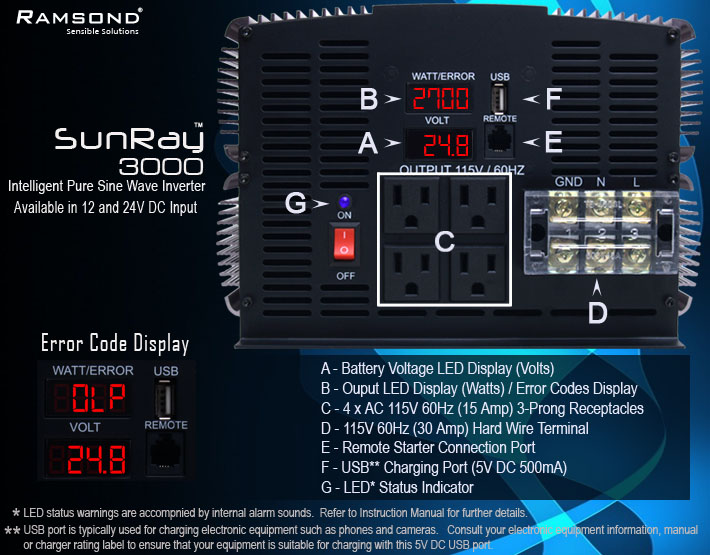 Cooling Characteristics
The heat generated by a power inverter adversely affects both its performance and longevity. Therefore, the heat dissipation characteristics of an inverter are critically important to how well it performs and how long it lasts. Ramsond

SUNRAY™

inverters feature many new innovations, including cutting edge and proprietary cooling design characteristics. The cooling attributes of Ramsond

SUNRAY™

power inverters include the following:
Body/Shell

In contrast to many low quality inverters that use plastic or painted steel shells, the exterior shell/body (heat sink) of the Ramsond

SUNRAY™

power inverter is constructed of aluminum which is precision extruded and anodized. This anodizing finishing process prevents corrosion and increases wear resistance of the exterior shell.

Ruffled Heat Sink Fins

Heat sink fins help increase the air flow and ultimately cool the inverter. The exterior heat sink fins of Ramsond

SUNRAY™ are ruffled; further increasing the surface area for air flow, leading to much superior cooling characteristics.

Large High Speed Rear Cooling Fan

Ramsond

SUNRAY™ 3000 is equipped with a large rear fan. This fan is thermostatically controlled and automatically engages when the internal temperature increases.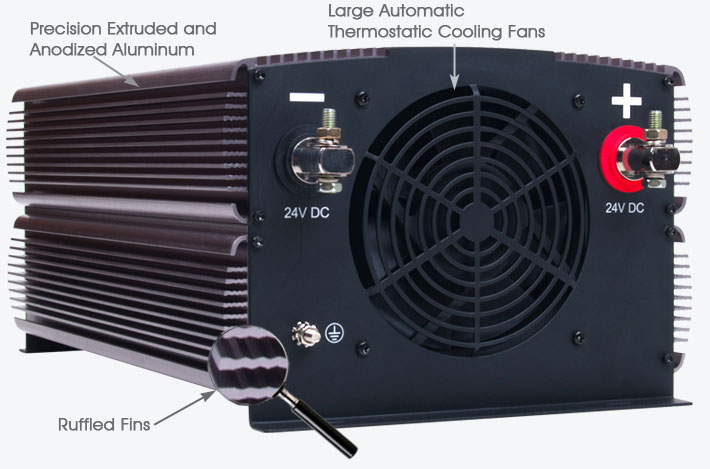 .


The ability to start a power inverter from a distance is both a valuable convenience and, in many instances, a necessary and functional tool.

All Ramsond SUNRAY™ power inverters are remote-ready. They all feature a REMOTE connection port, located on the front panel of the inverter. The optional remote starting systems connect to this port. With the optional remote starting systems, the Ramsond SUNRAY™ inverter can be turned on or off from distances of up to 100 feet (30+ meters) away.

There are two types of optional remote starting systems available; the Wired and Wireless. The Wired system consists of a remote switch and connecting wire. The Wireless system consists of a Receiver and wireless Transmitter. Both of these remote starting systems provide convenient mechanisms to turn the inverter on or off from a distance. Each of these systems is supplied with a connecting wire assembly. The connecting wire (between the Receiver/Switch and inverter) can be lengthened as needed, using standard telephone cable and connectors.





Warranty

Each Ramsond Ramsond SUNRAY™ series pure sine wave inverter comes with a 1 year Limited Warranty covering both parts and labor (at our designated service center). We maintain a constant stock of all components and replacement parts. During the term of the warranty, should you require service, simply return your inverter to our service facility. Your inverter will then be repaired or serviced promptly and returned to you. This is indeed the best warranty available as compared with other would-be competitors who simply provide a parts only warranty. Furthermore, we have knowledgeable and qualified technical and service personnel on staff available to address any of your technical questions. Simply email or call us and we will promptly address your questions.


Shipping

Each Ramsond SUNRAY™ is guaranteed to be BRAND NEW and in original factory packaging. When you purchase your Ramsond inverter inverter here, your investment is protected. We employ the best packaging techniques so your order arrives to you in perfect condition. All orders are shipped within 1-2 business days of receipt of payment. From the time the item is shipped, it usually takes 2-5 business days for you to receive it.* We ship to physical addresses only. We cannot accommodate shipments to a P.O. Box,, APO or FPO.

* Transit time estimates are based on shipping within the continental US only. We cannot guarantee transit times. Transit delays are outside our control.

Ramsond's knowledgeable technicians and engineers are trained to answer all technical questions. Similarly, Ramsond maintains state of the art repair and service facilities, equipped with some of the world's most advanced equipment, should your product require service or repair. We have the answers and solutions that you need. You can email or call us and one of our knowledgeable and certified technical agents will be ready to assist you with all of your questions. You may call us at

(866) 777-7071

during normal business hours. You may also email us at

sales@ramsond.com

or click on the

Contact Us

button below to submit your questions and/or comments.
List Price:

$1,299.99

Current Price:

$989.99

Free Shipping & Handling
(Lower 48 States Only)

Please choose from the options below: